Fun and Festive Bounce House Edinburg TX Kids Can't Get Enough Of
  Bounce Houses

If you are ordering for a school, church, company, or anything other than a residential party or event, please call our office for more information. Pricing for these parties and events vary.
If you're looking for the best bounce house edinburg TX has to offer, book with Party With Us RGV! Our local, family-owned and operated company has been providing edinburg, Texas, and all of Hidalgo County with safe and high-quality party equipment rentals since 2007, and we are ready to help you throw a party your guests won't forget! With our team of party professionals, you'll not only find the most enjoyable indoor bounce house edinburg TX can provide, but you'll also have the largest variety of party equipment to cover all of the party planning basics. As your one-stop event equipment rental shop, we provide it all so you can have just as much fun as your guests!
Celebrate any occasion with the bounce house edinburg TX partygoers love most! Our festive inventory of bouncers allows you to choose the perfect inflatable to suit any gathering and budget, from annual community music festivals to meet-the-teacher open-house events and anything in between! No matter the cause for celebration, Party With Us RGV is your all-inclusive party provider to help make your upcoming event one to remember.
Book the bounce house edinburg TX can't get enough of with a few easy clicks on our website. Our high-quality inflatables provide the perfect environment for your guests to have the most fun possible. When you're planning your next gathering, trust us to make it an occasion your guests will be raving about for months. Use our convenient online booking system to browse available selections and make a reservation online, or give us a call to get started today!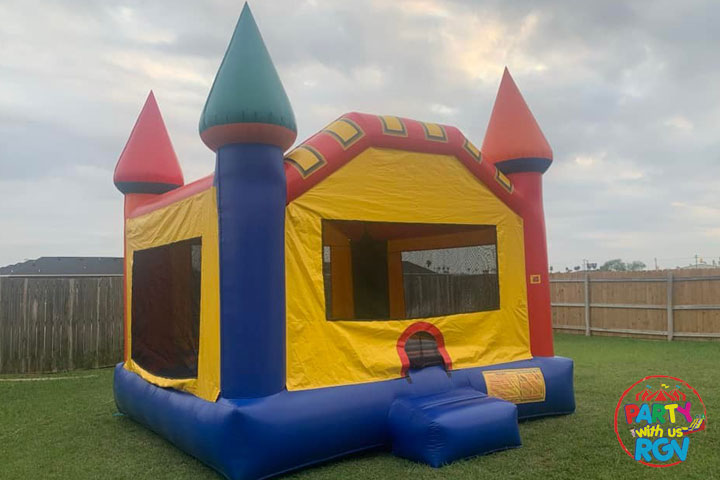 Exciting Bounce House Rental Edinburg TX Uses for All Events
Party With Us RGV is home to the bounce house rental edinburg TX trusts most! Our bouncers are an excellent way to make the most of any occasion, from birthday parties to block parties and every special moment in between. No matter the size or scale of your event, it's sure to be a hit when you book the best small bounce house edinburg TX has to offer! Elevate your child's birthday celebration, provide your employees with the chance to let loose, or give the children at your school or in your neighborhood the time of their lives with our exceptional bounce houses and moon jump edinburg TX kids go crazy over!
Party With Us RGV proudly offers the safest bounce house rental edinburg TX can provide! Our exciting bouncers offer the safest environment for your guests to play, jump, hoop, slide, and run wild, so they can have fun and make memories without any worries. Our bounce house rentals are perfect for any event, such as school field days, day camps, block parties, bachelorette parties, festivals, vendor fairs, business grand openings, daycare events, and more! No matter the size of your gathering, your guests are guaranteed to have a blast when you book a bounce house rental from our team of party professionals. Browse our available selections and book online in a matter of minutes! We have tons of options to go along with your bouncer such as water slide rentals edinburg TX and more.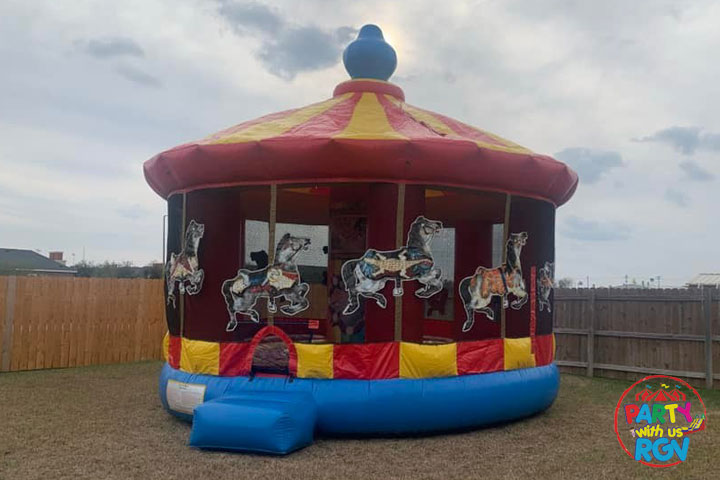 Wide Selection of Bounce House Rentals Edinburg TX Can Trust
For the greatest selection of bounce house rentals edinburg TX has to offer, choose Party With Us RGV! Our high-quality bounce houses are available in various themes to match any occasion, allowing you to choose the rental that perfectly suits your party, budget, and guest list!
Make your daughter's birthday party unforgettable with our Disney Princess Bounce House or Minnie Mouse Bounce House for just $149 for the entire day. These 14.5' long by 15.5' wide by 15' high inflatables can be set up in any 18' by 17' by 16' area and are a favorite among children in edinburg, TX. Elevate any superhero-themed party with our Superman Bounce House for just $149 for the full day! This 14.5' long by 15.5' wide by 15' structure can be set up in any 18' by 17' by 16' area and is sure to make a child's birthday one they will never forget.
All of our bounce houses require only one electrical outlet and can be enjoyed by anyone over the age of five. Plan your next occasion with Party With Us RGV to take advantage of the most-loved kids bounce house edinburg TX can provide!
Why Choose Us for Your Edinburg TX Bounce House Rental
Choose the edinburg TX bounce house rental that kids AND adults enjoy by booking with Party With Us RGV! Don't let the hot weather ruin your celebration. Our high-quality bouncers are the perfect way to have fun in the sun and beat the Texas heat all year long. Our bouncers are made with mesh windows to allow proper airflow within the inflatable walls, so you and your guests can have fun without getting overheated. This feature also allows parents to be able to monitor the activity inside the bouncers with ease.
We've built long-lasting relationships with our customers, including families, local businesses, community organizations, sports clubs, churches, school districts, and individuals looking for cost-effective and exciting party rentals for every occasion. Our friendly, helpful team is always available to answer any questions, walk you through the process, and help you make the best decision for your specific party rental needs. We've earned dozens of positive reviews and hope you'll give us the opportunity to prove why we're the top choice for bouncy castles and party equipment in the Rio Grande Valley around Edinburg, Texas!
Our team is delighted to offer the safest edinburg TX bounce house rental options. Our local company partners with industry-leading manufacturers to ensure our customers are getting the most secure equipment available. Our inflatables are created with your safety in mind and are equipped with lead-free and fire-resistant vinyl. Each bouncer features an inflatable ramp for easy and safe entry and exit. We inspect and sanitize each inflatable before and after use so that our customers can enjoy like-new equipment. Party With Us and have fun without any worries when you plan your next gathering.
How to Rent a Bounce House in Edinburg TX
When you're ready to rent a bounce house in edinburg TX, we make the process as stress-free and straightforward as possible, so you can focus on having FUN! To book with our easy-to-use online reservation system, simply choose which rental that's best suited for your specific party needs, click the red "Add To Cart" button, choose your rental date and times on the calendar pop-up, enter your payment information, and have the time of your life with your new rental! It's super quick and straightforward to browse our available inventory and make a reservation using any smart device.
Once you submit payment details, you'll receive a confirmation email with a digital copy of your receipt. One of our team members will be in touch leading up to the date of your party to confirm a drop-off window that works best for your schedule. If you'd prefer to speak with one of our staff members to rent a bounce house in edinburg TX over the phone, give us a call! Contact our staff at (956) 358-3393 and let us help you throw a party to remember.
FAQs About Renting Bounce House Near Me Edinburg TX Depends on For All Parties
If you have questions about the #1 bounce house near me edinburg TX can trust, you're not alone! We've compiled a few of the most frequently asked questions by our first-time customers to address any questions or concerns you may have. Browse through our FAQs below and get in touch with our team if you need any additional information. Give us a call at (956) 358-3393 and our friendly staff will be happy to help!
What are the payment options?
We currently accept cash or any major credit card. We only ask that if you decide to pay with cash, you provide our drivers with the exact amount, as they do not carry cash to make change. Our online system accepts any major credit card as well.
Is there a required deposit?
Yes, there is a 50% credit card deposit required for any order. When you're searching for the most affordable bounce house near me edinburg TX can depend on, we guarantee we carry the inventory that will make your day and keep you under budget!
Set up typically occurs 1-2 hours prior to your scheduled event time. We will contact you the day before your event to address delivery details, so you can rest assured your party equiment and entertainment will arrive in plenty of time to prepare for your guests.
Delivering a Bounce House Rental Near Me Edinburg TX Families Love
If you find yourself searching for the bounce house rental near me edinburg TX residents love most, you'll find them when you choose Party With Us RGV! Our local family-owned company loves to be involved with our community and frequently partners with the Edinburg Independent School District, small businesses, clubs, organizations, churches, and individuals planning fun and festive parties year-round. Our entertaining rentals are popularly used in our region's parks, such as Edinburg Municipal Park, Edinburg Bicentennial Park, and Memorial Park. Most parks do not have access to electricity, but don't worry! As your all-inclusive party rental provider, we think of everything. We also offer generators available for rent at a reasonable cost.
If you're searching for the bounce house rental near me edinburg TX trusts most, book with Party With Us RGV! Our exciting bouncers are available in the 78504, 78539, 78540, 78541, and 78542 zip codes. We're thrilled to offer delivery to McAllen, Weslaco, Pharr, Mission, edinburg, Hidalgo, Sharyland, La Joya, Donna, edinburg, Mercedes, La Villa, Valley View, Elsa, Edcouch, Harlingen, San Benito, Brownsville, La Feria, Los Fresnos, Rio Hondo, Roma, Rio Grande City, and the surrounding areas. Customers that are located outside of Hidalgo County are encouraged to call us at (956) 358-3393 to ask about special accommodations. It's always our goal to take the fun to the next level for any event. Book online today and we'll deliver to your event in a hassle-free, convenient manner.
Positive Reviews When You Rent Bounce House Near Me Edinburg TX
Party With Us RGV is glad to provide the best rent bounce house near me edinburg TX has to offer. We're thrilled to be involved in the special moments that happen throughout the years, including graduations, class reunions, bridal showers, school field days, and every opportunity to celebrate in between! Whether you're searching for entertainment for an upcoming neighborhood block party or just want to keep the kids busy over a long holiday weekend, we have styles and selections that make the party planning experience as simple and stress-free as possible. Take a look at some testimonials from our satisfied customers and book your party rentals online today!
"Amazing customer service, quick to reply, products available in all price ranges. I'm so happy to have found Party With Us. Their website made it so easy to find what I was looking for. They even helped me put together a small package deal that was within my budget AND on short notice! I will definitely order with them again!" -G. Reyes
"Party With Us RGV is a great company. We booked our event at our mosque at the end of July. Adriana provided the best customer service. The prices were very reasonable. If you want no hassle, great quality, great prices, and great service - stick with Party With Us RGV. We will definitely be booking our next event with them." -M. Kidwai
"The Mickey Mouse & Friends bounce house was a hit with the kids and even some of us adults who are young at heart! I appreciate how this rental company easily accommodated us on such short notice and made it convenient to select the bounce house we wanted, reserve it, and pay for it ALL ONLINE on their website! The delivery of the bounce house was a little early, which was a big plus, cause we had even more time to enjoy it! It was in excellent condition and we never had a problem with it! I highly recommend Party With Us RGV to all of my family, friends, and those of you who may read my review!" -A. Farias