Riding Bull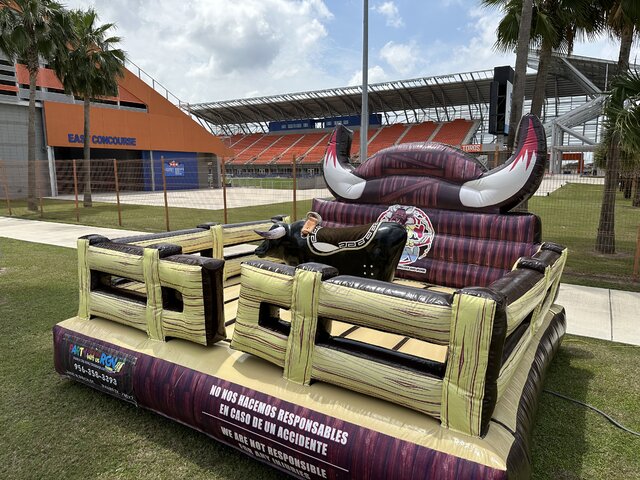 $199.00
Please call our office to reserve this item.

Description
Get ready for an exhilarating adventure with our Riding Mechanical Bull! This state-of-the-art attraction is designed to give you the ultimate rodeo experience right in the heart of your event.
Our Riding Mechanical Bull is perfect for both beginners and experienced riders, offering a safe and thrilling ride for everyone. With its realistic movements and adjustable speed levels, you can customize the intensity of the ride to suit your preferences and skill level.
Constructed with top-quality materials, our mechanical bull ensures a smooth and comfortable ride. Its soft padding and secure grip handles provide maximum safety, minimizing the risk of any injuries. Our experienced operators are also trained to ensure your safety throughout the entire ride.
Whether you're hosting a birthday party, corporate event, or a wild western-themed gathering, our Riding Mechanical Bull is guaranteed to be the highlight of the day. It's a fantastic way to entertain guests of all ages and create unforgettable memories.
Not only does our Riding Mechanical Bull provide an exciting experience, but it also offers a great opportunity for friendly competition. Challenge your friends or colleagues to see who can stay on the longest or who can handle the highest speed level. It's a surefire way to create a fun and competitive atmosphere at your event.
So, what are you waiting for? Grab a cowboy hat, put on your boots, and saddle up on our Riding Mechanical Bull for an unforgettable ride. Book now and let the rodeo adventure begin!
Price shown is per hour, starting at $199, two riding bull options available. Mimimum 3 hours. Please call our office for details. 956.358.3393